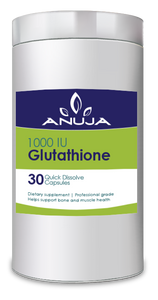 Your body produces Glutathione but you may need more. It's a potent immune system booster and addresses many effects of aging.
Suggested Use
Anuja recommends our oral spray as the most effective way of getting high bioavailability of glutathione.
Supplement Facts
Our oral spray is manufactured to the highest standards of purity and effectiveness.
Disclaimer
Always consult your physician before starting any supplement regimen, especially if you are pregnant or have health problems. Children should not take Glutathione supplements unless recommended by a doctor. Glutathione side effects are rare, but can include weakness, sleepiness, loss of appetite, nausea, and more. If you experience any of these side effects, consult your physician immediately. Statements concerning this product have not been evaluated by the Food and Drug Administration. This product is not intended to diagnose, treat, cure, or prevent any disease. KEEP OUT OF REACH OF CHILDREN.