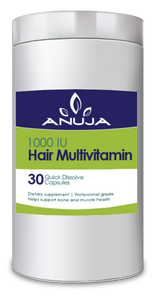 Hair health depends on many factors, but Anuja's Multivitamin for Hair Health ensures you're getting adequate nutrients to support hair growth and quality.
Suggested Use
Take as directed by a physician to support healthy hair.
Supplement Facts
Our hair health multivitamin contains the substances proven to be important in increasing the health of your scalp and hair.
Disclaimer
Always consult your physician before starting any supplement regimen, especially if you are pregnant or have health problems. Children should not take multivitamin supplements unless recommended by a doctor. Multivitamin side effects are rare, but can include weakness, sleepiness, loss of appetite, nausea, and more. If you experience any of these side effects, consult your physician immediately. Statements concerning this product have not been evaluated by the Food and Drug Administration. This product is not intended to diagnose, treat, cure, or prevent any disease. KEEP OUT OF REACH OF CHILDREN.